When:
April 27, 2018 @ 10:00 am – 12:00 pm
2018-04-27T10:00:00-07:00
2018-04-27T12:00:00-07:00
Where:
O'Reilly Safari Live Online Training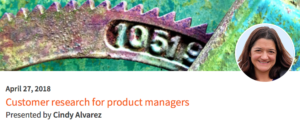 View Full Details on the O'Reilly Website
You know research is important for de-risking your product decisions, but between building a product and keeping your early customers happy, how do you find the time? Cindy Alvarez shares scrappy techniques for continuing to learn from customers and validate your assumptions without investing a lot of time or money. In this hands-on two-hour course, you'll learn how to use customer support and feedback channels to provoke research, arm your sales and customer success teams with research tactics, and figure out which feature requests you should build (and which you can ignore). You'll also get a good idea of which customers you should focus on and what questions you should ask them.