Here's a complete rundown of all my upcoming public events and travels.
May
4
Fri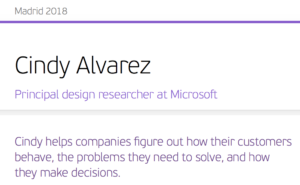 I am headed to Madrid, Spain on May 4-6! Among other activities, I'm excited to be giving a workshop for Visma at their annual conference!
While I'm going to have limited time on the ground, but please don't hesitate to contact me if there may be an opportunity to connect in person while I'm in town.
Stay tuned for more information on my trip. You can also follow my journey Twitter or Instagram.
May
8
Tue
NewSchools Venture Fund Summit 2018
May 8 @ 11:00 am – 12:30 am
How to Design Your Product with Diversity, Equity and Inclusion Principles
I'm thrilled to be presenting to EdTech leaders and entrepreneurs at the NewSchools Venture Fund Summit 2018 on the topic of "How to Design Your Product with Diversity, Equity and Inclusion Principles."