Here's a complete rundown of all my upcoming public events and travels.
Apr
11
Wed
Lean Startup Night in Copenhagen – via Zoom
Apr 11 @ 6:00 pm – 8:30 pm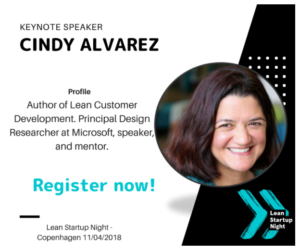 On the evening of April 11 in Copenhagen, the topic for the Lean Startup Night presented by SingularityU Nordic will be Customer Development. Although I wish I could be there in person, I'm excited to be giving the keynote talk via Zoom!
Apr
16
Mon
Cindy in Johannesburg, South Africa
I'm very excited to be headed to South Africa for the first time!
I may have some additional availability while I am in Johannesburg, and I'm interested in making the most of the opportunity to learn as much as I can about technology & innovation in Africa while connecting with local companies, organizations, and entrepreneurs.
Please contact me if you may see a potential fit for:
A site visit (esp. if you currently use or are considering Microsoft Azure or cloud developer / DevOps tools)
A private workshop for your company / organization on Lean Customer Development, enterprise innovation, etc.
An intro meeting with local startup groups, accelerators, entrepreneurs, etc.
A pro-bono talk for local non-profit organizations working to further women and/or minorities in technology in South Africa and across the continent.
Stay tuned for more information on my trip. You can also follow my journey on Twitter or Instagram.