Here's a complete rundown of all my upcoming public events and travels.
Apr
23
Mon
How Product Management Leads Change in the Enterprise
Apr 23 @ 10:00 am – 12:00 pm
View Full Details on the O'Reilly Website
You've got a new idea or practice that you feel your company needs to adopt, but with a large number of stakeholders, a low tolerance for risk, and a long history of "but we've always done it that way," it's hard to get enterprise companies to try something new. Expert Cindy Alvarez will teach you a framework for getting buy-in, reducing risk, and creating small successes that you can build upon. Come with a specific problem or idea in mind that you need to push forward in your organization. By the end of this three-hour training course, you'll be able to create a compelling narrative of how and why that change will benefit the enterprise.
Apr
27
Fri
Customer Research for Product Managers
Apr 27 @ 10:00 am – 12:00 pm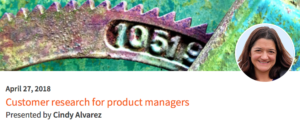 View Full Details on the O'Reilly Website
You know research is important for de-risking your product decisions, but between building a product and keeping your early customers happy, how do you find the time? Cindy Alvarez shares scrappy techniques for continuing to learn from customers and validate your assumptions without investing a lot of time or money. In this hands-on two-hour course, you'll learn how to use customer support and feedback channels to provoke research, arm your sales and customer success teams with research tactics, and figure out which feature requests you should build (and which you can ignore). You'll also get a good idea of which customers you should focus on and what questions you should ask them.